Caitlin

McQuade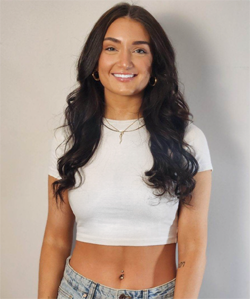 Caitlin McQuade began dancing at the age of two at Anita Ehrler's Dance Extensions in Bergen County, New Jersey. Growing up in Northern New Jersey, Caitlin had the privilege of living in close proximity to New York City, where she was able to be introduced to the professional dance industry at a young age. At her studio in NJ, she competed for seven years, starting at the age of ten, and has won various awards and scholarships, both in the competition and convention spaces. She's most proud of becoming a Prodigy at Artistic Dance Exchange where she was able to travel the country and assist the choreographers on faculty at convention.
When Caitlin was thirteen years old, she knew that dance was not just a passion, but more of a career path. This is when she began dancing in New York City, and prioritized her training at the world-renowned Broadway Dance Center. For her senior year of high school, Caitlin made the choice to stop competing, and train in New York full time, which created a more seamless transition into her professional career. Being a high school student with accolades and a professional dancer booking jobs simultaneously was definitely a challenge at times, but Caitlin lives by the quote, "She believed she could, so she did," and that is what motivated her.
Some of her credits include: MTV Flashmob for "Be Myself" by Montana Tucker and Todrick Hall under the direction of Theresa Stone, The Society New York Fashion Week under the direction of Lane Napper, Broadway Dance Center Student Showcase performing choreography by Nijawwon Matthews, Josh Assor, and Sheila Barker, Dumbo Dance Festival, Brooklyn Youth Arts Festival, and a multitude of other performances across the city. Caitlin has also been able to experience working on set of many movies and television shows including High Strung Free Dance, Fuhgeddabout Christmas, and Gravesend. She has also been a backup dancer for many artists including Jenna Rose, Spencer X, and others, with the opportunity to choreograph routines for performances as well. She also attributes so much of her growth as a dancer to her mentors, Tracie Stanfield and Nijawwon Matthews, who saw something in her at a young age, and helped mold her into the dancer she is now.
Throughout her professional career, Caitlin began experimenting with her own choreography, which led to setting pieces on her friends in the city, and eventually teaching  in New Jersey. Teaching is where she fell in love with dance in such a new way. If you talk to her, she will tell you all about how being "Miss Cait" is her favorite thing in the world. Caitlin believes that dance education is just as much about nurturing the mental as much as it is about coaching the physical. Her pedagogy is built upon foundational technique, self-expression, and artistry. She believes there is a special place in between structure and spontaneity where magic happens. Caitlin promotes creativity in her class and loves getting to see her dancers have breakthroughs when they discover they are capable to do so much more than what they believe they can.
Since moving to Pennsylvania, Caitlin's mission as a dance educator is to bring New York to the dancers here, who don't have the same opportunity to travel to there every day to get industry training. What keeps Caitlin inspired is always remaining a student herself, to continue to learn and grow, and be better for not only herself, but for her students as well.