ABDA COVID-19 Safety Measures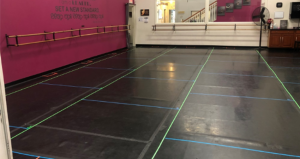 The safety, health, and well-being of our dancers, their families, and our teachers are our #1 priority. Therefore, we are closely following CDC guidelines to prevent the spread of COVID-19 and need to change some of our in studio procedures in order to give your dancer the best possible dance education and experience. We will be practicing social distancing, cleaning and disinfecting the entire studio daily, supplying and using hand sanitizer, wearing masks when social distancing is not possible, etc. We understand that everyone's situations and preferences are different. Therefore, we are trying to accommodate with many options to keep dancers dancing within their own comfort zones. All preferences must be respected by all dancers, families, and teachers. For those that are not comfortable dancing in the studio, we will offer a virtual option through  zoom for all classes and camps.
Here are some very specific guidelines and procedures for all our dancers, their families, and our staff must follow as we begin dancing at the studio:
Safety Procedures for entering the building
All persons entering the building must wear a face mask or covering.
Only one parent/guardian may bring a dancer(s) into the studio for class. NOTE - No parents/guardians will be permitted to wait in the lobby or studio. Instead, you must wait outside or in  your car.
No siblings or extra people will be allowed to enter.
If you must bring siblings, please have them wait in the car, if at all possible.
If your dancer(s) is old enough, please drop them off just outside the front door and have them enter alone.  We will be waiting for them inside, will line them up in the correct class, and escort them to their classroom.
Do not arrive more than 5 minutes ahead of your class time  (you may wait in your car if you arrive earlier).
Please arrive with your dancer(s) dressed and ready to go if at all possible. Students are not permitted to change clothes anywhere within  the studio and our dressing rooms  are temporarily  closed. Dress code will also be flexible during this time.
Dancers should bring a small bag with their dance shoes, a labeled water bottle, and a clean spot for their  mask. PLEASE limit the amount of items that are brought into the studio. Bring the absolute minimum with you.
Make sure dancers have eaten and used the restroom before arrival. Our vending machine will be temporary out of order. We would also like to limit any eating in the studio if at all possible.
ALL persons entering the studio, must use hand sanitizer.
We reserved the right to take temperatures of anyone entering the studio using a non-contact, infrared thermometer.
We are providing colored silicone bracelets to all of our dancers to help our staff distinguish comfort zones while dancing at the studio. All dancers and teachers must respect each dancer's preference and comfort zone.

GREEN comfort band - Physical contact for alignment corrections is allowed with your dancer as normal, group photos and other proximity activities are allowed, your dancer may use any of our disinfected dance equipment and props, your dancer does not need to wear a mask while dancing, and you wish to have a "normal" class experience for your dancer.
YELLOW comfort band - No student to student contact, your dancer may use disinfected dance equipment and props, allowed close proximity to others if moving around the classroom is essential to the dancer's experience, and your dancer may have the option to wear a face covering while dancing.
RED comfort band - Your dancer and/or family has a preexisting condition or is immune compromised, protective gear or face coverings must be worn at all times, 6 ft social distancing is desired, and  your dancer should not travel around the classroom.
Face Coverings
Due to Pennsylvania's Universal Face Coverings Order, all persons 2 years old and older must wear a face covering upon entering and exiting the studio. Face coverings include any mask, shield or covering of both the nose and mouth.
Dancers are not required to wear face coverings while actively engaged in dancing and performances that prevent the wearing of face coverings. Students who prefer to wear a face covering while actively engaged in dancing and performances should consider wearing a face shield instead of a face mask. Dancing with a face covering is completely optional.
Students will place their face coverings in their bags which will be placed in an individual box that corresponds with their "assigned" 6' x 6' marked social dis-DANCING area.
Students must wear face coverings while entering and exiting the dance rooms, bathroom, and anytime 6 feet of social distancing is not possible.
We are following Pennsylvania Interscholastic Athletic Association (PIAA) rules regarding the Universal Face Coverings Order.
Studio/Classes
Studios have  been marked out with tape to assist with social distancing. Each 6X6 box is  numbered. Dancers will only be allowed to dance in their numbered box. Any water bottles or bags will be placed in  the corresponding box. NO dressing rooms or cubbies may be used!
The lobby, studios and restrooms are limited to dancers and staff ONLY
Social distancing must be practiced at all times if at all possible.
When not dancing/teaching in your social disDANCING area, face masks must be worn.
All lost and  found items will be disposed of at the end of each night. PLEASE label your items with  your name and do not leave anything behind.
Due to social disDANCING, individual class sizes will be smaller and available only on a first come, first serve basis.
During the last  5  mins of class, all classrooms, including floors, equipment, and handles/touchable surfaces, will be cleaned after every class (or group of dancers). Dancers may be asked  to wipe their social disDANCING area with a wipe before dismissal. They will  also be asked to use hand  sanitizer before they leave along with putting their mask on.
Dancers/teachers will not be permitted to touch other dancers/teachers. There  will be no  hand shakes, high fives,  hugs, or  partner work.
The use of props  will be VERY limited. If a prop must be used,  it will be cleaned/sterilized before and after use.
Restrooms
The restrooms will be limited to  dancers and teachers.
Dancers should use the restroom at home before coming to the studio.
Use of the restroom should be limited unless it's an emergency.
Restroom lights will remain ON all night to avoid people touching the  light switch.
Anyone using the restroom, MUST wash  their hands extremely thoroughly using the touchless soap dispenser. After drying hands with paper towels, use that paper towel to open the door.
The restroom, including toilet, sinks and all handles will be cleaned/disinfected after every class.
Illness 
Please do NOT come to the studio  for any reason if you have a fever, cough, or are sick. You will  have the ability to join via Zoom or have a makeup class once you are well. This  goes for all students and teachers. ALSO, If anyone in your family has been feeling unwell, do not come to class.
Do NOT  come to the studio if you have  tested positive, or have had COVID-19 symptoms within the  past 14 days.
Please do  NOT come to the studio if you have had close contact with a person who has tested positive or have had COVID-19 symptoms within the  past 14 days.
We reserved the right to take temperatures of anyone entering the studio using a non-contact, infrared thermometer.
Anyone with a temperature of 100.4 or above OR showing signs of sickness, will be asked to leave the studio.
Thank you for your cooperation and continued support during this unprecedented time.
Contact us ANYTIME regarding any concerns or questions. We will work together to make the best out of this situation. Communication is key!
Sending you all good health and love.