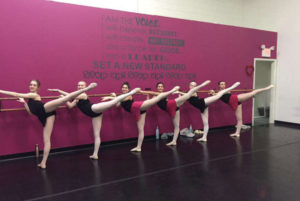 Enjoy a fun filled week of INTENSIVE & POSITIVE dance training
designed for the more serious dancer. Mon. August 10th – Fri. August 14th for ages 7 and above of Intermediate & Advance Levels. Meet new friends and try new styles of dance with many different guest teachers!
Monday, August 10th – Friday, August 14th from 9am-5pm. Intensive includes a full day of dancing with classes in Ballet, Pointe, Jazz, Lyrical, Tap, Contemporary, Modern, Hip Hop, Street Jazz, Acro, Musical Theatre, Voice, Acting, Choreography and Improvisation. Dancers must provide their own bagged lunch each day. This intensive is offered to dancers ages 7 and older (dance experience is required). Dancers must be of an intermediate or advance level. The cost for the camp is $395.00 per child ($365 if paid before 5/1/20). There are half day options AND single day options (see below). To register, please complete both sides of this Registration Form and return or mail to the studio along with your full payment. Please submit one form per student. No student will be permitted to participate in the intensive without a signed registration form and waiver. Contact us if you have any questions. Intensive payment must be received to hold your place. All fees are non-refundable.
DO NOT WAIT TO REGISTER!!!
Availability of Summer Programs will be determined per enrollment. Waiting until the last minute to register could cause a program to be canceled!!!
PLEASE REGISTER BY MAY 1, 2020 to receive a special discount & reserve your spot!